Kitchen & Bath Design in Fort Smith, AR
The busiest rooms in the house are undoubtedly your kitchen & bath. If your current spaces leave room for improvement, don't worry, we're here to help unclutter your kitchen or boost up your bathroom!
At Alford's Carpet One Floor & Home in Fort Smith, AR, we're your local source for fine kitchen and bathroom design. Our collection of waterproof floors, backsplash tiles, and custom showers is only the beginning.
Best Waterproof Flooring for Kitchen & Bath
If you need flooring to withstand everyday splashes and spills, consider our waterproof flooring options.
Among the top waterproof flooring options for kitchen and bath flooring are waterproof vinyl, waterproof laminate, and traditional tile.
Waterproof vinyl flooring

comes in both tile and plank form. It's important to note that not all vinyl floors are truly waterproof: to truly be considered such, your flooring will have a watertight, absorbent core, as well as a resilient, tough surface. As a result, your planks or tiles will trap splashes on their surface, where they're simply removed with a clean, dry towel.
Waterproof laminate flooring

is ideal for higher-traffic areas. These dense, sturdy planks are affordable, look exactly like hardwood, and are easy to install. Most planks click in place to "float" your new floor. Like vinyl planks, it's important to select a laminate product that's truly 100% waterproof, since not all of them are.
Waterproof tile flooring

such as ceramic is a popular favorite for kitchens & baths. With thousands of options, ceramic tiles are easy to customize and can even be installed to coordinate with your walls. Be sure to install narrow grout lines, as this will go a long way in preventing mold and mildew in between cleanings.
Wall Planks
Tired of painting your kitchen or bathroom walls?
We have a better way. Wall Planks are wood or synthetic paneling that's specially treated to adorn your vertical spaces. Perfect for homes and businesses alike, these planks are easy to install (most are self-adhesive) and even easier to care for!
Tile Backsplashes & Wall Tile
Tile installation on your walls is hardly a new concept: in fact, we've loved tile walls for centuries!
Install tile backsplash around your kitchen counters, around your tub or shower, or behind your stovetop range. Use various colors and textures to create a dramatic contrast or blend them in with your countertops: the choices are endless.
In turn, you'll be protected when you splatter spaghetti sauce, drop the shampoo, or when things get messy at the next family gathering! Since even the tiniest bit of unseen moisture can damage traditional walls, a tile backsplash offers constant protection, making your space more sanitary as well as more stylish.
Custom Showers By Design
Is your current shower a sad situation?
Consider a custom tile shower, or our custom shower systems (or both!) Like wall tile, your shower tile makes for simpler clean-ups. Need a better way to wash? Our custom shower options include improved hardware, jets, shower heads, and even hand showers: the perfect addition for multi-generation homes.
Shop Kitchen & Bath Near You
Alford's Carpet One Floor & Home is more than simply your local flooring store: we're also your destination for better kitchens & baths. To learn more, please visit us today at 6604 Rogers Avenue in Fort Smith, AR.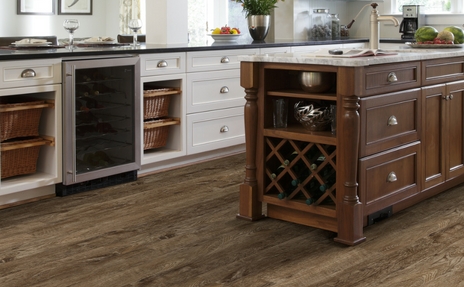 Learn More About Kitchen & Bath
Tile Backsplashes

If you are looking to update your kitchen or bathroom, start with something small and affordable like backsplash tile. You can transform a boring wall into a focal point in your kitchen or bathroom.

Custom Tile Showers

Custom showers are all the rage because they are the perfect way to make your bathroom into a spa-like space. Learn more about creating your dream bathroom at the link below.