Backsplash Tile
The experts at Alford's Carpet One Floor & Home in Fort Smith are here to help you take your kitchen or bathroom from outdated to modern and stylish using backsplash tile. We make updating your kitchen or bathroom easy by offering affordable solutions. Simply updating your walls with backsplash tile can completely transform your space. You can start your next home project with something simple like backsplash tile, which can make a huge difference in the overall feel of your home.
Create a Custom Backsplash
Express yourself in your own home with tile. Inspiration can come from anywhere in your home, from a design magazine, social media, or even from our showroom samples. You can choose from different trends and styles that work with your home décor. Our flooring professionals and interior designers can use their eye for design to help you bring your ideas to life. Utilizing different textures and materials to create a backsplash using tile is essential to any kitchen or bathroom design.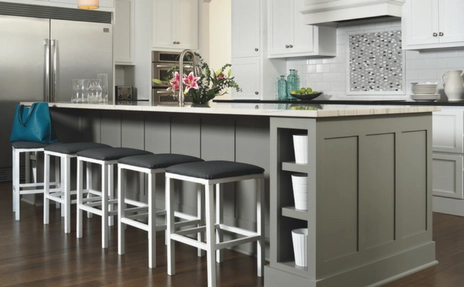 Durable Protection
Backsplash tile was originally meant just for function, and protected your walls from accidental food and grease splatter from a cooktop. Today, backsplash is meant for both style and function! With a proper backsplash tile arrangement, your walls are shielded from all kinds of accidental spatters and spills. With minimal effort, virtually anything can come off of a backsplash, and stains are no longer a fear.
Easy Maintenance
Backsplash tiles are just as easy to clean as a regular floor tile. Maintenance is also a breeze, and you can replace individual tiles relatively easily if something happens. Many backsplash tile options are prearranged on mesh backings for fast and easy installation. You can update the entire look of your kitchen with one small, low-effort change, and the best part is that a small section of tile is never terribly expensive.
At Alford's Carpet One Floor & Home in Fort Smith, AR, we are proud to provide backsplash tile to Sebastian County and Northwest Arkansas.